Is Coinbase safe? This is the ultimate question almost everyone new crypto enthusiast want to know.  The short answer is: Coinbase is legit, no doubt.  It is still among the best retail outlets to buy or sell your crypto when starting out.
However, of late, Coinbase has received a stream of negative complaints. Some users, even those who have been loyal customers, are starting to doubt the company's legitimacy. Just like any other business, Coinbase has its challenges, and hopefully, they will tighten the noose – soon rather than later.
In this review, I will explore Coinbase to the core. Everything you need to know, including Coinbase current issues in 2019/2020 is packed in this review.
Here is a list of what the review covers: 
What's Coinbase all about?
Coinbase customer reputation
Who should use Coinbase and why?
Coinbase security
Coinbase privacy and Verification
Verification levels and buy limits
Coinbase payment methods
Bank transfer
Wire transfer
Debit cards
How to get started with Coinbase and buy your first coin
How to buy your first digital asset
Coinbase available coins
Coinbase countries
Coinbase support
Coinbase pros
Coinbase cons
Final Thoughts
What's Coinbase all about?
Coinbase --  co-founded by Brian Armstrong and Fred Ehrsam -- is one of the oldest 'retail outlets' for digital currencies. The San Francisco based company has been in the game since 2012. At the time of writing this, it has been six solid years of business.
Over the past two-three years, Coinbase has received an overwhelming number of users.  In 2018 alone, if every user who had a Coinbase account was awarded a single bitcoin, there would not be enough bitcoins in the world for every user, given that Bitcoin is capped at 21 million – so far, 17 million bitcoins have been mined (around 80%).
In 2017, Coinbase had attracted a user-base of more than 13 million; now (Q4, 2018), it has over 25 million users.  According to statistics gathered by Altana Digital Currency Fund, Coinbase is getting an average of 25,000 users per day -- as reported by Alistair Milne.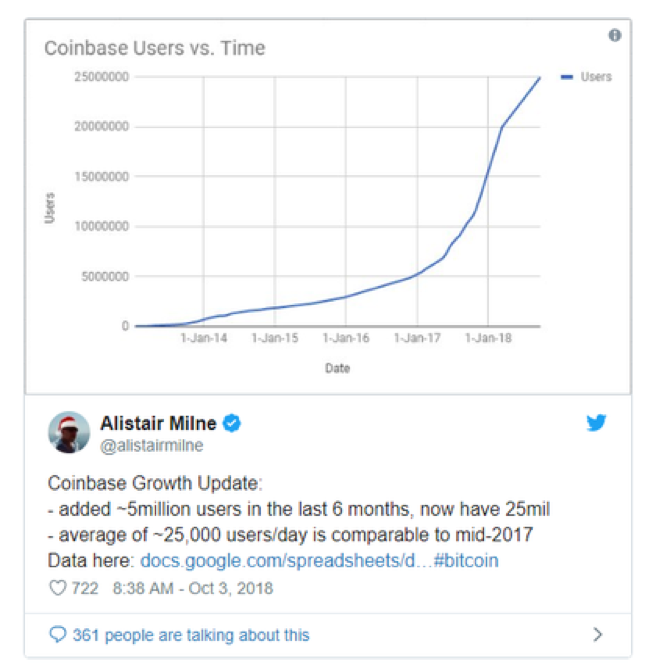 Despite the cumulative market value of crypto shrinking by more than 70 percent, Coinbase is poised to make almost $1.3 billion by end of 2018, alone.  That's a huge come-back, considering coinbase lost a whopping net worth of approximately $16 million back in 2016.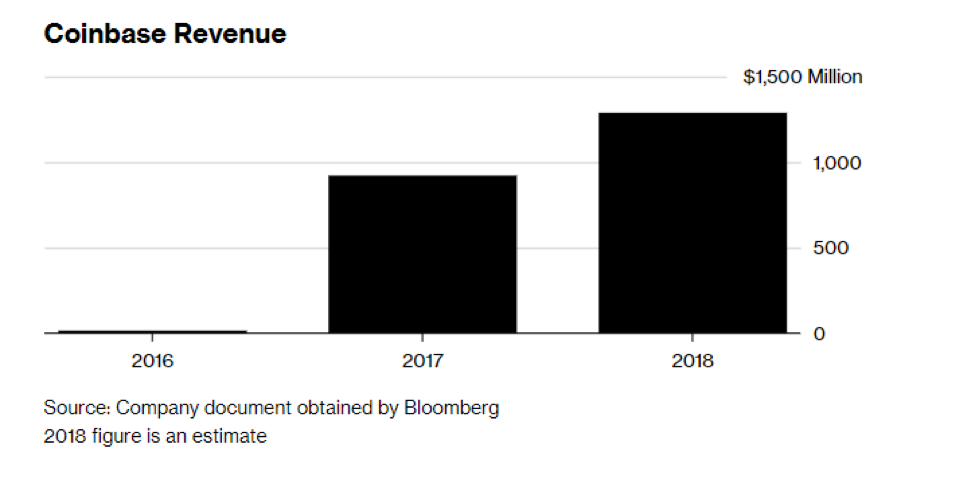 So now that you are familiar with some Coinbase stats, let's get to the review, already.
Coinbase customer reputation
When it comes to customer reputation, Coinbase sure gets a mixture of the good and the ugly.  While many customers seem to find a home at Coinbase, some are furious that Coinbase services are no longer satisfactory.  Some customers believe Coinbase is headed to the dogs. I did massive Internet digging on Coinbase, and there are countless negative reviews about this company.  If you go through Coinbase reviews on Trustpilot or platforms like Reddit, they are tons of dissatisfied customers.
Specifically, the major issues seem to revolve around freezing of accounts, disabling withdrawals,  privacy long wait-times for various deposit and withdraw methods, and of course, the terrible customer support. 
A number of customers have had their funds put on hold by Coinbase after the deposit had been processed.  Others report to have lost money in Coinbase, and when they eventually reached out to Coinbase, the Support kept taking them in circles.  For those who lodged complaints about loss of cash, it took Coinbase like forever to find/return the 'lost' funds. 
All in all, Coinbase still commands a massive following.  Perhaps that's why its customer service is dragging behind but that should be no excuse. Despite the unsatisfied comments, Coinbase is the number one place to exchange fiat money with crypto.
On a scale of 1-5, I would give Coinbase a solid 4.0 stars.  That's because the company needs to improve in some critical areas. Still, do not shy away from trying out Coinbase because your experience can totally be different from mine's or another person. You could start off with a small balance.
Who should use Coinbase and why?
Coinbase is best suited for the early crypto adopter. When most users want to get a hold of digital currencies for the first time, a majority of them turn to Coinbase.  When it comes to buying crypto with fiat money, the options are limited. Beginners seem to like Coinbase because - once you have verified your Identity, buying cryptocurrencies using fiat currency is straightforward.  Still, that does not mean that the average or experienced trader will shy away from Coinbase. If you are a veteran, you may like the premium service offered on Coinbase Pro - you get to view advanced trading features like depth charts, candlestick charts, and market data feeds.
Coinbase security
Although Coinbase is a centralized exchange, governed by KYC/AML laws, it seems strict with matters related to account and funds security.  The Exchange has rolled out strict security measures to keep your funds, and the information you provide secure. Having been a victim of numerous account hacks, and following the fate that befell MtGox Exchange in 2014, Coinbase is sure not taking any chances.

Security is a hot-button issue, considering in the first half of 2018 alone, cryptocurrency Exchanges have lost $761 million combined to hackers -- this figure is nearly 3X what hackers stole in 2017. See the figure below.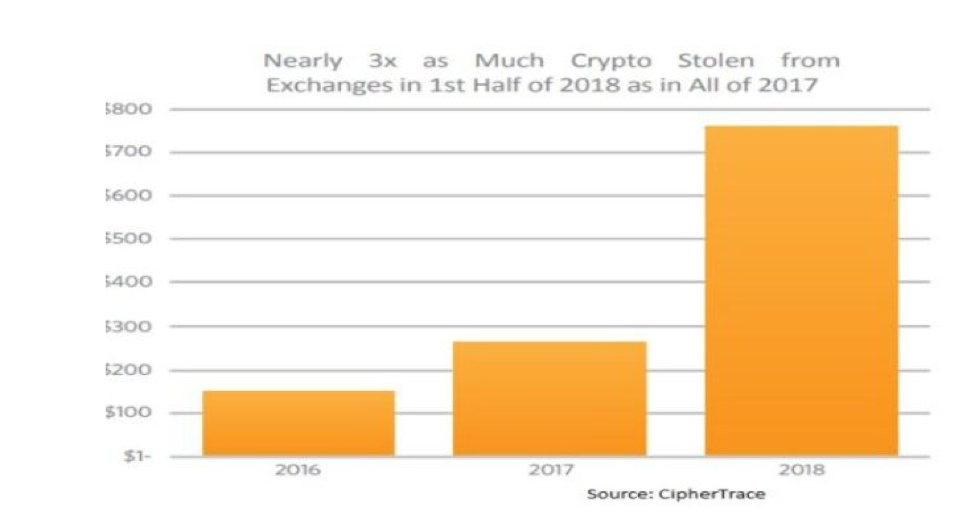 Let's look at some of the security measures Coinbase has established:
Coinbase holds customers' funds in offline cold storages.
You get to set 2-factor authentication for your account as an additional security layer.
Coinbase does not hold sensitive data on online servers.
The Exchange encrypts data with AES-256 algorithm; furthermore, this data is "copied to FIPS-140 USB drives and paper backups. Just like funds are stored at geographically distributed locations in vaults and safe deposit boxes, the same is done to the drives and paper backups.
All website traffic passes through an encrypted SSL protocol (https).
Coinbase uses AES-256 encryption to secure wallets and private keys.
All employees are made to undergo a criminal background check when being hired.
For every device and service, Coinbases employees use a separate password and two-step verification.
As a rule, every employee has to use a strong password combination, they have to encrypt their hard drive, and enable a screen lock.
To prevent CSRF attacks on its site and application, Coinbase uses SQL injection filters "to verify the authenticity of POST, PUT, and DELETE requests". Also, to monitor the variety of actions happening on the site, including limiting actions lie login attempts, and so on.
Still on applications, Coinbase whitelists attributes for all models – this helps "prevent mass-assignment vulnerabilities.
All passwords stored on their database are hashed. They use hashing application known as bcrypt with a Key Factor of 12.
They check whether passwords used by users are strong.
Coinbase keeps application credentials separate from their database and code base.
Apart from the above security measures, Coinbase now provides insurance cover for all digital coins held in their online wallets.  If somehow Coinbase was to lose funds due to a security breach, the insurance policy would cover for any funds stolen.  Remember: only 2% of customer funds are held on their online storage.
When it comes to fiat balances, your funds are eligible for an FDIC insurance cover if they are held at a Coinbase USD wallet.  You get an insurance cover of up to $250,000 if you are a U.S. customer.  Furthermore, all fiat currency held is stored in segregated custodial bank accounts or in U.S. Treasuries for American citizens – this means, even if Coinbase was to go under, you would still get your money back.  And have you heard about Coinbase Bug Bounty program?  This is a program that specifically rewards anyone who identifies a security vulnerability related to software at Coinbase.  This measure enhances the security of customer info and funds (both digital and fiat balances).  The Bounty figure ranges between $1,000 and $11,000.  So far according to statistics gathered (as of this writing), 398 reports have been resolved, 283 hackers thanked, and Coinbase has already spent $290, 381 on this program. You can learn more about the Bounty program on this page.
Coinbase privacy and Verification
As mentioned, Coinbase must comply with the KYC/AML laws outlined.  Thus, to avoid getting caught up in money laundering cases or other criminal activities, Coinbase collects your personal information, an exercise that helps to verify your Identity and 'improve their quality of service' -- apparently. Unfortunately for you as a Coinbase customer, you must shell out a lot of personal information. You can voluntary submit this information or Coinbase can retrieve it from its partners.
What kind of information does Coinbase collect?
Personal identification info. This includes info like your real names, nationality, place of birth, home address, gender, your photograph, and so on.
Formal identification info. This includes providing info like your driver license info, passport number, ID card info, Tax ID number, and visa information.
Financial information. This includes info related to your bank account, your transaction history, trading history, etc.
Transaction information. CB collects all details related to the transactions you make.
Employment information. Where do you work, what is your job title and what role do you play?
Online footprints. IP address, geo-tracking, Cookies, browser type, type of OS, and so on.
To know what additional information Coinbase collects from customers, and how it is of help to them, check out the company's privacy policy.  Another thing to note is that Coinbase monitors all your accounts activity. Again, they say it is for the purpose of protecting the business from illegal activities. But then again, that means you don't get any anonymity whatsoever.  Hence, your transactions on Coinbase are traceable, and more so, they are are not anonymous.
Contrary to the idea that digital currencies are here to bring money freedom and decentralized power, Coinbase clearly does not does have such interests at heart since it is all about centralization; controlling your funds. It's all business.
Verification levels and buy limits
At Coinbase, it is mandatory you verify particular information to get access to various buy, and sell limits. Essentially, your account limit depends on the payment method you decide to use, where you are based, and your verification level.
To begin with, there is the Coinbase widget that allows you to purchase bitcoins worth $5 per day.  With this option, you do not have to register an account, and you get a lifetime limit of $50 –  Once exceeded, you need to open a Coinbase account.  When you create a new account, you must verify your email and phone number. At this stage, your account is at Level 1.  To add a payment method, you will most likely have to verify your personal information; this raises your account to Level 2 that allows you to  buy up to $25,000 daily via bank transfer (ACH). With debit cards, you get up to a limit of $7,500 per week.
If you opt for wire transfer, you get unlimited uploads. To gain access to level 3– that allows you to transact on the blockchain – you have to verify your ID. There is no stipulated verification time. Verification can take minutes, hours, or even days.
The chart below shows the limits for different payment methods for U.S. customers.
| | | |
| --- | --- | --- |
| Method (US-based) | Limits | Time before you can withdraw/send |
| Debit Card | Up to $7,500/week | Instant once debit clears |
| ACH | $25k/day (cumulative ACH limit) | Majority of customers can withdraw/send within 5 business days. |
| Wire Transfer | Unlimited | Instant once wire clears |
Coinbase Fees explained
For every digital currency you buy or sell at Coinbase, you will pay a flat fee (known as the spread) of 0.5%.  On top of the Spread, Coinbase will charge you a fee – calculated either as a flat fee or a variable percentage fee, whichever is greater. That is for buy and sell transactions.  The fees will vary depending on where you are located, payment type and the product feature.
The variable percentage fee for all buy and sell transactions is 1.49% while the flat fee is calculated as follows:
Below $10: $0.99.
Between $10 and $25: $1.49.
Between $25 and $50: $1.99.
Between $50 and $200: $2.99.
For instance, if you were purchasing $100 worth of bitcoins, you would pay a fee of $2.99. With debit cards, the fee applicable is 3.99%, and it can be higher if you are outside the U.S.  ACH deposits are free while wire transfers are charged $10 for deposits.

If you are a U.S. customer, you will have to pay a flat fee of 4% for every transaction you initiate. As for Coinbase withdrawal fee, U.S. customers pay $25 as a fee; if you are in Europe, the fee is €6; Canadians pay $1 for every withdraw initiated.
Keep in mind, while depositing funds from the bank to Coinbase, you will be charged a small amount in Euros or dollars to verify your deposit and withdrawals. The amount will be credited your account once the bank transfer completes successfully.
Also note, Coinbase claims it does not charge a fee for conversion of digital currencies.  However, that can be far from the truth – Coinbase seems to hide the extra fees in the 1% Spread they claim to charge. Again, we can only hope this is not the case for everyone, and that Coinbase comes clean on this.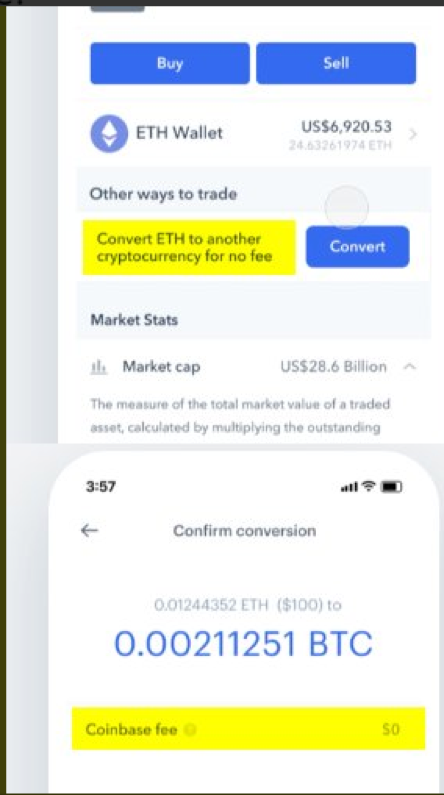 Coinbase payment methods
Coinbase accepts three different payment methods: bank transfer, wire transfer, and debit cards.  Let us look at each payment method.
Bank transfer
Bank transfer is one of the payment methods Coinbase supports.  A bank transfer is favorable for large amount buys.  On the downside, a transfer can take several days to complete.  U.S. customers who get to use ACH can wait up to 10 days (usually, it's 4-5) even though Coinbase recently announced that with a new update, funds will become available immediately after transfer from bank.   However, the coins bought will not be eligible for withdrawal from Coinbase until the bank clears the transaction. Perhaps, a change is around the corner.
If funds are in your Coinbase USD wallet, however, the purchase is instant for U.S. customers. For people outside the U.S., deposit and withdraws will depend on your respective bank processing time – which can be instant, a few minutes or it can take between 1-4 days, depending on your payment method and location.
For example, customers in the U.K. and European countries can deposit funds to Coinbase wallet via SEPA transfer – this can take 2-4 days. Likewise, customers in Canada can use EFT (takes 3-4 business days) or Interac – which is instant.
Withdraws can take 1-3 business days, depending on the bank you are using.
Wire transfer
Wire transfer is the other payment method accepted at Coinbase. This payment method allows you to deposit or withdraw funds to and from your Coinbase account.  If you are in the U.S., a wire transfer takes 1-3 business days.  Also, this option is only available if you are transferring not less than $5,000.
As for withdrawals, wire bank transfer withdraws are limited at $25,000 more.  According to Coinbase, a wire transfer withdraw should take 2-3 business days.
Debit cards
The last payment method you get to use at Coinbase is debit cards, like Visa and Mastercard. This payment method has an advantage because in some cases you get to instantly buy crypto – without pre-funding your account.  This option is fast as long as your card is '3D Secure' card. Debit cards are favorable for small purchases.
However, there is no way to withdraw via debit cards: use bank transfer or wire transfer.
How to get started with Coinbase and buy your first coin
Step 1: To get started, head over to Coinbase official website, and hit the 'Sign Up' button.  Pick between an individual and a business account.  Next, fill in all the relevant details: your full names, email address, a unique password, and solve the recapture image.
Step 2:  Open the email address you signed up with – Coinbase will have sent you a verification link for your newly created account.
Step 3:  After verifying your email, the next step is verifying your phone number.  Submit your phone number and wait for the verification code.
Step 4: Once verify your phone number, you will have access to Coinbase dashboard.  From this point, you just have to verify your Identity and then add your preferred payment method to buy your first coin with Coinbase.
How to buy your first digital asset
With a Level 2 account, you can buy digital currencies listed on Coinbase. Once you have deposited funds, and the balance is in your Coinbase account, head to the dashboard; tap on the 'buy/sell' tab. From there, follow on-screen instructions. Coinbase will deduct their fee from the total amount used for a 'buy' transaction.
See the illustration below how to go about it.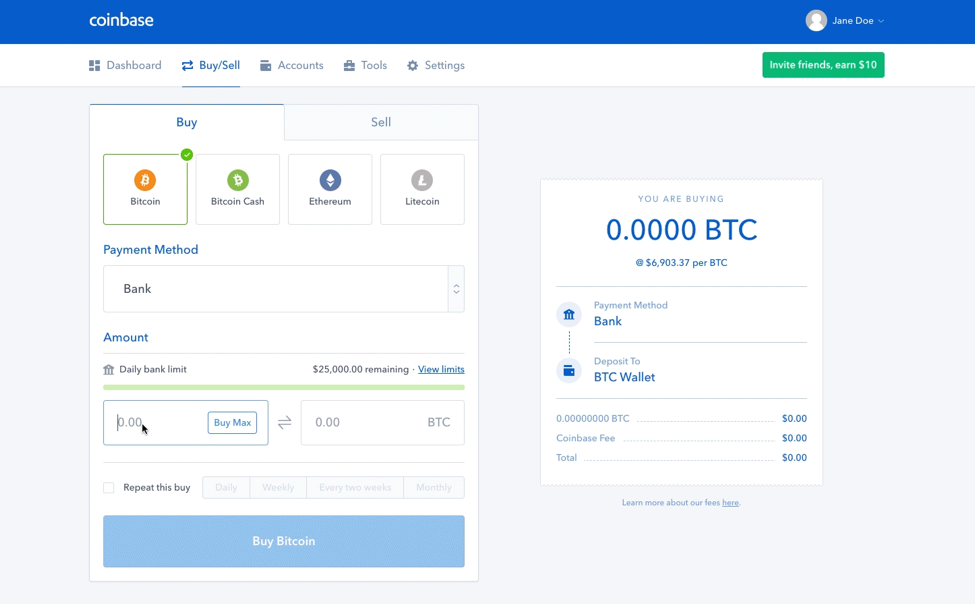 New entry customers wonder how long it will take to get the coins bought. Now, this is where a lot of controversy kicks in -- because, even though Coinbase some customers have received their coins within a few minutes, some insist it took them two weeks, others up to four weeks, to get their BTC or ETH.
The disadvantage here is that you can lose money during this waiting period, more so because crypto is a highly volatile market.
For example, let's say you want to buy a product priced at $180 but you get a discount of $30 for BTC/LTC pairs.  If it's during the bear market, where we see the price of bitcoins going downhill, it would be impractical to buy this specific product with the initial bitcoins you bought at Coinbase. That's because, by the time you get your bitcoins, it's value will have sunk a little, meaning you will need to top up with more coins since you cannot afford to pay for that specific product.
Coinbase App Review
Coinbase has mobile app dabbed 'Coinbase Bitcoin Wallet'. It is user-friendly and it has a simple, clean interface.  You can use the app to easily buy cryptocurrencies with various payment methods. You also get to view detailed market charts, you can add the various payment methods, and even verify your identity using the app.
However, the app does fall short in some areas. For instance, it does not display order books,  it lacks crucial privacy features, and some people feel the arbitrage fee is quite on the high. 
Coinbase available coins
As of this writing, Coinbase has listed only several coins. Even so, we can expect Coinbase to list more digital assets in the future. Just lately, the company announced it will add more than 30 digital assets to their platform.  Some of the top coins they hope to list include XRP, Cardano, OmiseGo, NEO, EOS, IOST, LOOM, and among many others. 
At this moment, Coinbase supports  the following digital currencies:
Bitcoin (BTC)
Ethereum (ETH)
Litecoin (LTC)
Bitcoin Cash (BCH)
Ethereum Classic (ETC)
0x (ZRX)
Coinbase countries
Right now, Coinbase is available to customers in 32 countries: Austria, Australia, Belgium, Bulgaria, Canada, Croatia, Cyprus, Czech Republic, Denmark, Finland, Greece, Hungary, Ireland, Italy, Jersey, Latvia, Liechtenstein, Malta, Monaco, Netherlands, Norway, Poland, Portugal, San Marino, Singapore, Slovakia, Slovenia, Spain, Sweden, Switzerland, United Kingdom, United States.
Coinbase support                   
Coinbase sure needs to work on their customer support. I would say it is a total joke for a company generating billions of dollars yearly. The biggest complaint out there is being unable to get through Coinbase customer support -- it is a devil of a job.  It can take Coinbase weeks, or months to resolve a lodged complaint.  Even when the support does respond to your ticket, mostly you never get a straightforward answer. It is always the same old automated response.
Coinbase needs to up its game, here.
Coinbase pros
Coinbase offers a straightforward way to buy digital currencies with fiat money.
It has a user-friendly website and app.
You can use credit and debit card to buy cryptocurrency
Coinbase is regulated by the AML and KYC laws; you can have some trust they will not disappear with your cash.
Start trading on Coinbase Pro immediately after purchase of your first crypto
Get trading limits of up to $25,000 per day.
Digital currencies are insured.
Coinbase uses separate cold storages to secure funds.
Coinbase holds government-issued currencies in custodial reserves and treasuries.
Coinbase offers a Bug Bounty reward to people who keep their security in check.
Coinbase cons                                
The issue of freezing accounts and disabling of withdraws.
Coinbase has been accused of monitoring accounts monitoring as well as leaking information.
Poor customer support
Sometimes there are delays on deposits and withdrawals
The fees are higher than other exchanges.
They need to add more cryptocurrencies.
Digital currencies bought can take time to get credited to your wallet.
Final Thoughts
Judging from the many reviews I have read online, Coinbase sure does have its fair share of challenges -- only time will tell if they will take a different turn, and improve on areas that need attention. Coinbase needs to know about these pain points, and hopefully apply some pressure on it.  Regardless, we can still say Coinbase is safe and legit -- for now.  Should you decide to buy a digital asset on Coinbase, I would advise you to move your funds to a hardware wallet like Trezor or KeepKey immediately you get the coins. 
Reason being: "if you do not own or control the private keys, they are not your coins.". Ask any crypto expert - that's like the first rule of the game. Secondly, although Coinbase ensures the safety of your funds, you will have peace of mind if you can avoid some of the hiccups people seem to experience -- like getting your account frozen or having a previously cleared payment put on hold, as some users report.
Read our next article: Gemini V.S Coinbase Review: which exchange do I choose?
Published: 01/02/2020